"...For Everything Which Is Natural
Which Is Infinite Which Is Yes..."
~e.e.cummings
Pilgrimage is:

~a small magazine living the big questions
~a community-in-print serving an eclectic fellowship of readers, writers, artists, naturalists, contemplatives, activists, seekers, adventurers, and other kindred spirits
~a place to tell the stories that matter
~an invitation to inward and outward exploration
~and an appreciation of the way home
---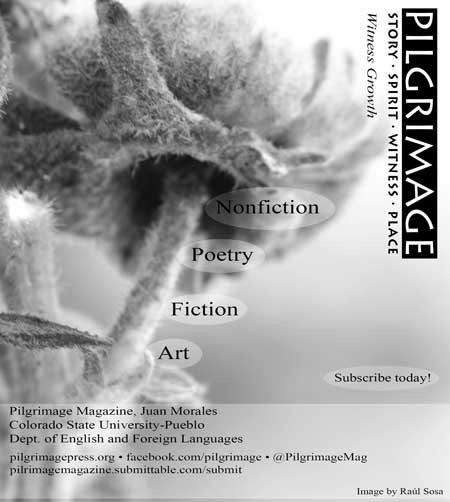 Click the image above for full size version.
---
Pilgrimage, founded in 1976, is published three times a year in Pueblo, Colorado. We feature the work of writers and artists in and beyond the Greater Southwest. Help sustain a good thing.

~Subscribe
~Submit your work
~Spread the word.

Juan Morales, Editor
Pilgrimage Magazine
Colorado State University-Pueblo
Department of English and Foreign Languages
2200 Bonforte Blvd.
Pueblo, CO 81001
REFLECTIONS on PILGRIMAGE Magazine:
Read a recent New Pages review of PILGRIMAGE here
NewPages.com Literary Magazine Reviews, Posted August 15, 2010

One of the few literary journals I literally read cover to cover. It's really beautiful.
Terry Tempest Williams

Thank you for taking on the good work of editing the magazine--long
a treasure in our midst. There are few with the focus on deep things
that this one has carried. We are all grateful to you.
Kim Stafford

I have never been disappointed by an issue of Pilgrimage. In a world that is exceedingly desperate, both on and off the page, this exquisite little journal never fails to soothe and stimulate in equal measure, with intelligence, grace, and authenticity.
Sima Rabinowitz
Newpages.com

Peruse the pages of PILGRIMAGE, and one is overcome with admiration for this dusty, teeming earth....The work in this journal mingles everything with the longing for a home. This mysterious yearning-especially from a journal whose very title upholds the spirit of journey and change-unfolds as one delves into its pages more deeply. Pilgrimage is a collection of works woven from poetic, philosophical, and artistic threads that honor the search for place, fulfill the need for story, and most importantly, remind us that sometimes it is when we are on the journey that we are most at home.
Image Update Newsletter
Image: Journal of Religion and the Arts

"[PILGRIMAGE] definitely belongs in the ruck sack of pilgrims, adventurers, and those contemplating a…journey beyond the outskirts of the Average."
Sam Keen
Author/Philosopher/Theologian

I was drawn to PILGRIMAGE in part because I believe in the power of stories: stories that lead us deeper into the world's great wisdom traditions, stories that help us to know home and place, stories that speak to the social justice issues of our time, stories that encourage reflection and contemplation, stories that have the potential to open, heal, and empower those who tell and receive them...the kinds of stories that once led poet Robert Bly to describe Pilgrimage as "one of tbe best journals in the country."
Peter Anderson
Former Editor/Publisher
PILGRIMAGE MAGAZINE