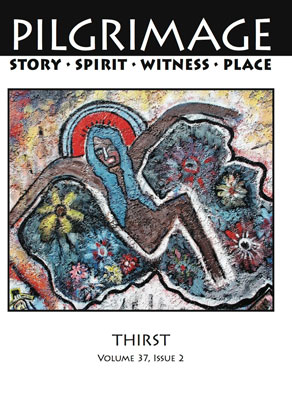 This summer, Colorado suffered from wildfires again. I spent several evenings in Pueblo wandering through the eerie smoke, under a deep red moon. Like everyone else in the state, I looked up and silently requested rain. Now, toward summer's end, every afternoon greeted us with storm clouds and much needed precipitation, but the rain has almost been overwhelming. As destructive as wildfires can be, many communities in Colorado have found themselves vulnerable to flash floods.
Reading for this issue of Pilgrimage, I felt the pull of fire and water. I admired how the contributors guided me into so many powerful moments: the dry taste in the mouths of a family crossing a desert, a young girl searching for the courage to leave a small town and study art, a poet's desire to revisit a sunset, the swallow of water a muralist takes while working in the New Mexico heat, an ode to an overlooked oil geyser, words assembled into a prayer that hovers over a meal.
I found myself thinking of "thirst" as the unifier. The word encompasses not only what we need to sustain ourselves, but also what we need to be fulfilled. The power of want is not limited to basic needs. It guides us forward when we are challenged and affirms us when we are thriving. These thoughts came to mind when I recently saw the aftermath of the Black Forest Fire and the Manitou Springs floods.
Undertaking a literary magazine in an economically harsh climate is clearly a challenge, but it's an easy decision when you consider the writing we cultivate and preserve. Pilgrimage Magazine carries a rich tradition in its mission and foundation here in the Greater Southwest, but it reaches beyond by honoring the past while ushering us forward.
Eternal gratitude to Maria Melendez, Peter Anderson, David Barstow, and everyone who built Pilgrimage into what it is today. Without their dedication over the years, we wouldn't have this outstanding little magazine. I also want to give special thanks to David Romtvedt for steering so many great writers toward this issue.
It is a true honor to join the Pilgrimage family as the new editor/publisher and to also announce Pilgrimage's new home at Colorado State University-Pueblo. This will lead to more opportunities for growth and collaboration. I hope to continue the strong sense of comunidad established by the founding editors and to lead the magazine toward further innovation. Like so many of you, I am thirsty for Pilgrimage's continued success and eager to ensure its words will continue to be read.
Juan Morales
Pueblo, Colorado
March 2013