Telling it Real: The Best of Pilgrimage 2003-2008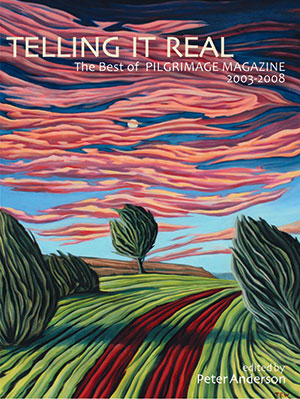 This collection is centered around themes which a wide range of voices have explored in Pilgrimage Magazine over the years: story, place, spirit, and witness. Story has to do with the value of letting our lives speak, of sharing what we've learned on the road. Place is rooted in the desire for a sense of being at home in our own skins and in the geographies that sustain us. Spirit speaks to the ways in which we are led beyond our own personal concerns and into an appreciation of a greater wisdom wherever it may come from. Witness is a willingness to be present to both the joys and terrors that we encounter along the way, and to let them lead us into a deeper sense of interrelationship and responsibility.
Juan Morales, editor, Telling it Real
Reviews of Telling it Real:
The collection is a testament to the world needing descriptive storytelling and ... creative magazines more now than ever. And it shows where modern-day storytelling in newspapers and magazines was heading -- precisely in that narrative direction -- before the Internet's sound-byte revolution.
Anna Basquez—Boulder Daily Camera ==> read more
Essays and poems in Telling it Real describe life in the Southwest in wonderful prose, from the heartbreak of Michelle Nickol's "Marian's Coffee" to the humor of David Romtvedt's "The Penis that Killed Jeffrey City," as well as gems like Michael Ventura's summation of [capturing] Arizona's Painted Desert in a photo: "For here it's not as though we're looking at the land, it's as though the land is looking at us."
Brendan Leonard—Mountain Gazette
At first, you might think: Well, where are all the leading environmental writers? There's no Wendell Berry, Barry Lopez, Terry Tempest Williams, or Alison Hawthorne Deming, for example. The writers mostly represent the American Southwest, and they represent it beautifully. They are, perhaps, lesser-known, and yet their work — like the anthology itself — is strong and image-filled and built on a passion for and sturdy relationship with the natural world.
Simmons B. Buntin—Terrain.org
I've read a lot of literary magazines in my time and edited a few, as well. I have a very short list of favorites, and Pilgrimage Magazine is on that list. Pilgrimage is a jewel of a literary journal. This journal blends a special kind of refinement with a deep connection to the earth. It combines great visual images with carefully chosen prose and poetic works. It is a testament to what writer Albert DiBartolomeo said is one of the most important parts of the writing and creative process: "Taking Care." Pilgrimage Press has just released a new anthology, entitled Telling it Real: The Best of Pilgrimage Magazine, 2003-2008. Just as the name of the press suggests, this will be more than a good read; it will be a pilgrimage, one that will be both meaningful and enjoyable.
Ysabel De La Rosa—ysabeldelarosa.blogspot.com